Good Evening, IA Families,
The 8th grade will be selling School Dance tickets at by front gate at dismissal from Thursday May 4th- Wednesday May 10th.  Tickets will be $8.  Please stop by and pick up your tickets!
The K-1 classes have created a loose parts building area in their yard. They will be leaving their constructions out overnight. If you are bringing little ones on that playground after school, please keep them from interacting with the ongoing kids' construction. The area will be roped off as a reminder.
The second semester school performance, Alice in Wonderland, will be presented May 4th, 5th, 6th at 6 p.m. with an additional matinee at 2 pm on May 6th . To get tickets, go to: IAPerformingArts.eventbrite.com Thursday night and Saturday morning there will be Gala shows with raffles, flowers for sale and refreshments
Martin, our after school chess instructor, is starting classes again on campus this week. He is also running a summer camp.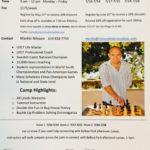 All inquiries can be directed to Martin
619-818-7759
martin@chessmindsinmotion.com
For the Month of May, the line drawings created by the Kindergartners with Jennifer will be exhibited at the art gallery in Birdrock Coffee, in Birdrock.  Your show of support for this coffee shop that is willing to display student work is appreciated.
There will be a summer technology camp for  2nd – 5th graders at SET High School (formerly Coleman Tech). This flier has details.
AB 624 is a robotics tax credit bill that Assemblyman Brian Maienschein is carrying and would create a 50% tax credit for donations (up to $10,000) made to "STEM clubs that participate in robotics competitions" aka Robotics Clubs. See the Fact Sheet attached
Wishing you health and happiness this week.