HALLOWEEN
As you know, Halloween is this Tuesday. Costumes are welcome at IA with a few exceptions: please do not wear masks. We need to be able to see all of our students' beautiful faces. Please do not bring weapons and other carry items. They may get lost at school and are hard for students to manage. Please vet your child's costume and if you think it may be inappropriate, have them wear something else. And finally, be respectful of race, ethnic background and gender costumes.
SCHOOL PHOTOS
Next round of school photos will be on Nov. 2 & 3. See the flier for the exact schedule. It can be found in the email and on the website.
COMMUNITY SUPPORT
Our amazing coach and his family are seeking a home rental of a 3-4 bedroom house at $2350 per month or less. If you see anything in your neighborhood, please contact April at  760-382-1653
4th GRADE YOGURT SALES
Help out the 4th graders and stay cool. There will be a weekly Friday frozen yogurt sale after school. Funds raised go toward the overnight 4th grade trip. For $3, you can buy one of three flavors. They will vary but one will always be nondairy.
THURSDAY LUNA GRILL
This Thursday is the monthly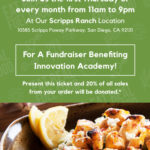 Luna Grill fundraiser. Plan ahead and get take out or visit Luna Grill for a family dinner. The flier is attached to the email.
IA 1st ANNUAL SWAP MEET (Next Saturday)
Come join the Innovations Academy community for the 1st Annual Swap Meet on Saturday, November 4 from 9am to noon. Join as a seller or a buyer! Admission is free.
To Sell: spaces $5 and comes with table, sign up in advance, donation truck will take unused items post sale
To Buy: come between 9-12. The Farmer's Market is on at the same time, which doubles the reasons to come.
Contact Genia Duffell to secure your space before they're all gone – Email: gdbasile@gmail.com Phone/Text: 7024989978
BOOK FAIR
The Annual Scholastic Book Fair is coming. Think ahead for Christmas, get some books to settle down for the Thanksgiving holidays or just buy because reading is FUN. Keep your eyes peeled for details.
Pledge Drive
We had more participation than ever this year. Next Sunday call will have full details about funds raised and final destination of those funds.
Thank you for listening and have a spooktacular week.