WOW!
The turn out to the Family Fun Night was astounding. Sorry for the wait for food, we will do better next year. Thanks to our parent, Terry Hovey, for the music and to the Parent Connection members who made it happen.
 Make LUNA GRILL the hotspot this Thursday and every first Thursday of the month. Between 11-close show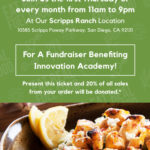 THIS FLIER for 20% to go towards playground materials at IA. So far this year, we have raised $122.41! We are off to a great start! This activity is sponsored by our Parent Connection.
#LoveIA Rocks CAMPAIGN.
What's the buzz about? Well, here's the 4-1-1. The Parent Connection has launched a communication campaign to share the stories about what parents love about our school!
Why?  We have 2 major events on the horizon:
1. A new school property
2. Charter Renewal
The Plan:
Share letters of stories & what you love about IA with us via email to: we4marchands@gmail.com(we will log them & share them with property owners and also in our Charter School Renewal Process. Can you imagine the district seeing hundreds of love letters about our school?
Post your letter as a review to www.greatschools.org
Decorate a rock & then write "#LoveIA" on it. Take it to YOUR HOME NEIGHBORHOOD. Place it somewhere public and snap a picture of it. Post that picture on any social media platform (Facebook, Twitter or Instagram) with the same "#LoveIA" hashtag. Then leave it for a neighbor to find and hopefully look it up & do the same. We should all use this same hashtag when posting pictures throughout the year on our social media pages. That way all of these pictures & memories will pull up when someone looks up the hashtag on any search engine. Pretty cool huh?
We are creating a movement of celebration of all of the amazing things happening at our school & in our homes, as a result of quality engaging experiential learning and no homework power! Please join in.
HALLOWEEN COSTUMES
Are you tired of spending $20 or more for a costume that will be worn only once or twice?  Do you struggle with what to do with that costume after Halloween? Good news!  The costume rent event is here.
For just $5 plus a $5 deposit, come to the MPR after school on Thursday and Friday October 5th and 6th.  Hundreds of costumes will be available including: animals, princess, Darth Vader, Alice in Wonderland, period costumes, and a variety of individual pieces to make up your own.  Costume sizes range from infant to adult and all rental fees will support the Performing Arts program.   There will be another opportunity to rent costumes just before Halloween, too.  Come on by and check it out!
PLEDGE DRIVE
The IA 2017 Annual Fundraising Pledge Drive is under way!  In past years we have raised money for laptops, chromebooks, microscopes, art supplies and buses.  This year, our theme is "Get Our Bus on the Road!" and we are raising money for gas, maintenance, and a bus driver for our new bus; AND a new sound system for our Multi-Purpose Room.  100% participation from all families is important so we can show grantors, the school district, and other potential partners the level of commitment our families have for our wonderful school.  To make a donation, use this link  Thanks for all that you do to help Innovations Academy!
SLC
Student Led Conferences are coming next week. Please make an appointment. We have had 100% participation for the last few years and we feel it is important that all parents, as the primary educators of their children, become familiar with the work being done at school.
PIZZA FRIDAYS
Friday pizza ordering is now set up on the school website under the "Lunch Orders" tab. online ordering only, no cash. Funds go toward 8th grade end of the year trip. Order now before the week gets too busy.