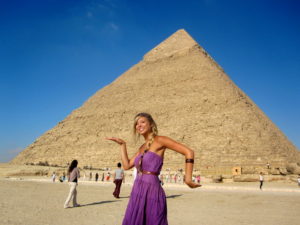 Hello everyone!
My name is Jill Anderson and I recently moved back to San Diego from San Francisco, California! In May 2013, I received my Multiple Subject Teaching Credential from San Diego State University. Since then, I have taught elementary aged students in San Diego, Los Angeles, Spain, and San Francisco.
As you may notice from my picture, I love to travel! I have been fortunate enough to combine my passion for teaching with my passion for travel. During the 2014-2015 school year, I taught English in Madrid, Spain.  I also lived and taught at an orphanage in Northern Uganda during the summers of 2011 and 2013.  While living in Uganda, I taught and counseled elementary aged children through a program called Children of the Nations, whose motto is "raising children who will transform nations."
During my time in San Diego, I taught 3rd grade for one year and worked as an Impact Teacher for a year, where I provided ELD support and intervention programs to at risk students. In addition, I served as an ESL teacher at Embassy English Institute, a program in Los Angeles for foreign exchange students.
In my free time, I enjoy hiking, camping, paddle boarding, kayaking, yoga, and spending time with friends and family. As someone who is passionate about educating the whole child and creating a positive learning community, I am thrilled to join a school whose teaching philosophy so closely matches mine.  I am blown away by the educators and staff at IA and can already tell this will be a great year!