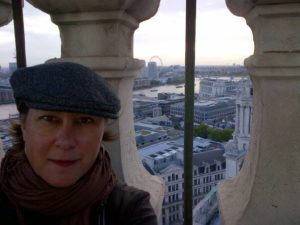 My name is Terri and I am thrilled to continue to be a part of the Innovations Academy community. Although I am a San Diego native, I have taught the past two decades in the San Francisco Bay Area and beautiful San Luis Obispo. I hold a credential for teaching and administration, as well as a Master of Science degree from Cal State East Bay (formerly Cal State Hayward). While I am definitely a life-long lover of learning, my passion and purpose intersect in both my classroom and my home, which I share with my daughter, Vera.
I love to travel and be in nature when I am able, but my true love is experiencing the joy and creativity of the visual and performing arts. I like to paint, sculpt, craft, sing, dance, and write in my free time. A few years ago, I even wrote a book and opened an art studio in San Luis Obispo where everyone in the community could come and learn how to create using recycled and fine art materials. It was such a great time to learn and grow personally and with my friends and neighbors throughout the county.
I enjoy living back in San Diego and experiencing our diverse city has to offer! Within my classroom community, I love to take the journey of inquiry and creativity along with my students. They always have so much to teach me with their unique perspectives about their world and themselves. With tremendous joy, I look forward to spending this year with the fourth graders as we will, no doubt, be learning lots of wonderful new things about life, ourselves, and each other.