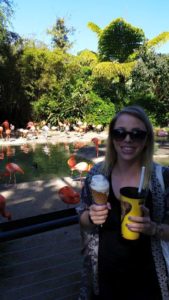 I was born in the beautiful Napa Valley where I was raised by a teacher. I always swore I would never follow in my mother's footsteps, but look at me now! I went to Sonoma State University and received my bachelors degree in English Literature with a concentration in Secondary Education. There I met a wonderful man and decided to start a new adventure in San Diego. I attended San Diego State University and completed the credential program and it was there that I realized that I loved teaching middle school. Since then, I have been exclusively found in middle school classrooms and wouldn't change a thing.
I currently live in Ocean Beach and have fallen in love with San Diego, even though I am still a San Francisco Giants fan to the core. I have a wonderful boyfriend of 5 years, a cat that thinks he's a dog, and a dog that thinks he's a human. Over the past 3 years I have developed a love and passion for teaching more than I could have ever imagined. I truly enjoy making connections and building relationships with young minds that are often wiser than we give them credit for. I am a life long learner and always enjoy absorbing new information, and I want to pass along that passion to my own students.
I am incredibly excited to continue my journey at Innovations Academy and can't wait to experience the joys of teaching eighth grade this year!