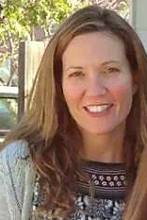 I am thrilled to be returning to 6th grade!  I have worn many hats at IA over the past five years including being the parent of two students.  Managing the  Learning Garden's build and design, working with teachers through experiential learning opportunities are a few of the great experiences I have had at IA.   However, my favorite part of the job has been  building partnerships in the community that culminate in many real world experiences for students.
I graduated from Albion College, a small liberal arts school in Michigan, with a BA in Economics and Management.  I pursued marketing as my first career and spent eight years in the field before falling in love with naturalist education on a trip to Alaska.  I eventually migrated to environmental education in San Diego and began my classroom teaching experience in 2009 at CalState.  I came to Innovations Academy in 2o12 where the dynamic learning style, along with their social and emotional growth philosophy have been a great fit.
I have Midwestern roots where my family spans four generations, many of whom, grew up next to Lake Michigan's western shores.  At an early age, I learned that hard work, compassion, and following my dreams were integral to success.  These values still influences my philosophy as an educator today.  I strive to empower students to be accountable and use their critical thinking skills to bring education to life.