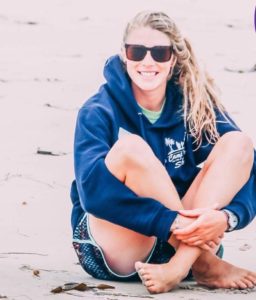 Hola! My journey has been quite an adventure and I want to thank you in advance for being part of the experience!
My name is Dre Thiltgen and I am thrilled to be on the Innovations Academy team. As I step into my second year at Innovations Academy, I am looking forward to fostering a learning community that is nurturing, welcoming, and inclusive. I come with experience in teambuilding, leadership development, athletics, and most recently four years of outdoor education at YMCA Camp Surf in Imperial Beach, California. I am delighted to guide open-minds in developing skills to be life-long learners.
I am homegrown here in East County San Diego where I lived with both of my parents and a younger sister, Haley. I attended Monte Vista High School in Spring Valley and concluded my time there in 2007. Following graduation, I attended Boise State University in Idaho where I earned my Bachelor of Arts in Education and competed as a member of the Division I Swim & Dive team for four years. I currently hold a  K-8 Idaho Teacher Credential, and  California Multiple Subject Teaching Credential.
Since graduating from Boise State University, I substitute taught in the La-Mesa- Spring and El Cajon Valley Union School District. I began as a Program Instructor at YMCA Camp Surf in the spring of 2013 where I fell in more love with the ocean and teaching outdoors. Our summers consisted of resident camp where I led the SOUL Surfer teen leadership program in outreach, community service, and developing cause-driven leaders. During the winter off-season, I have coached club swimming, worked and lived in Mammoth Lakes, and volunteered for the Y in Panama City, Panama. In my free time, I enjoy spending time with my family and our two dogs, Lucy and Skippy. I'll always take time to body surf, be active outdoors, listen to music, and bake.
Overall, I am thrilled to transfer my skills to the 3rd graders of Innovations Academy this coming school year. Bring your hat, sunscreen, and drink bottles as we develop a community that is inclusive, kind, and motivating!