Project Based Service Learning
Definition: "A systematic teaching method that engages students in learning knowledge and skills through an extended inquiry process structured around complex, authentic questions and carefully designed products and tasks."
Projects follow an inquiry based approach as follows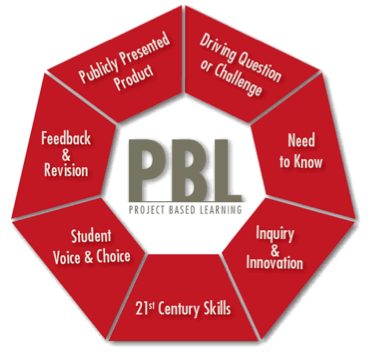 Creating Essential Questions, Subsidiary Questions and Outcomes
Gathering Information
Sorting and Sifting
Synthesizing
Reporting
Evaluating
Students work collaboratively in a community of inquiry to create projects that make an impact. Students think both locally and globally while designing their projects around essential questions that are relevant and challenging. They are learning 21st century skills as they grapple with new ideas, deep analysis and research. Our students leave school with pride knowing that each day they are contributing members of society.
Engaging Hands On Learning
Innovations Academy uses a constructivist learning approach in which students collaborate to learn subject matter. Constructivism views each learner as a unique individual with unique needs and backgrounds whose contribution to others is significant in the learning process. The learner is also seen as complex and multidimensional. We encourage, utilize and reward this uniqueness as an integral part of the learning process. Students are actively engaged in exploring content areas and developing skills through a hands on approach that incorporates individual time, small group time and centers. Exploring, building and doing allow students to work at levels that challenge them as individuals. We emphasize the importance of the learner being actively involved in the learning process by utilizing a variety of materials and providing many choices for learning.
Read more about Constructivist Learning Theory.
Hands-on learning is learning by doing. It involves the child in a total learning experience that enhances the child's ability to think critically and create products that are unique to that child's thinking and imagining. By allowing children to build, create, develop, discover etc we encourage the most effective way to learn. Samples of hands on activities:
Exploratory Learning Centers
Socratic Seminars
Problem Solving
Experimentation
Debate
Drama, theater, improvisation, song
Building, creating, construction
Play, painting, pottery
Project Support Classes
There are many ways that people can express their learning. In order to support our students in finding their voice, actively learning self-expression and supporting them to express their learning in a variety of ways, we have three programs in place. These classes can be  integrated into their projects so that students learn a variety of ways to express their learning. The support teachers collaborate continuously with the classroom teacher to provide a rich variety of instruction in the arts.  Through this program, our students are encouraged to express their learning through movie making, documentary filming, website design, vlogging, painting, drawing,  animation, graphic design, music production, reader's theater, theater production, improvisation and more.
Fine Art: Our resident artist, Niki, has a site that you can acccess to learn about the program.
Performing Arts: During the 16-17 school year, our Performing Arts instructor, Natasha, will collaborate with teachers and together integrate performing arts into the class curriculum. Natasha teaches dance, zumba, reader's theater, acting, play writing and stage design to students.
Media Arts : At Innovations Academy our students produce public service announcements, audio podcasts, documentaries and other media products to demonstrate their learning in a variety of content areas. They work with experts in the field to produce final products that reflect the learning in their project.
Other Support Classes
For the 2016-17 school year our students will also have access to the following classes with special teachers:
| | | |
| --- | --- | --- |
| Class | First Semester | Second Semester |
| Spanish | 6th, 7th, 8th grades | 6th, 7th, 8th grades |
| Nature Studies | Kindergarten-3rd grade | |
| Art | 6th-8th grades | Kindergarten-5th |
| Robotics | 4th, 5th, K, K, 1, 1 | |
| Gardening | | Kindergarten-3rd |
| Pottery/Clay | Kindergarten-5th grades | 6th-8th |
| P.E. | K-8 | K-8 |
Mathematics
Grades K-2
Grades 3-5 Beast Academy by the Art of Problem Solving
Grades 6-8 Pearson, CMP3, Connected Math Project
Software Programs Used at I.A.
ST Math (spatial-temporal math)
Beginning in October 2013, our students have accessed the ST Math program. This is a research based, spatial-temporal visual learning mathematics software. Created to address the fact that children learn differently than schools have traditionally taught, our goal is to support our students to understand mathematical concepts not just memorize algorithms.
Touch, Type, Read and Spell: TTRS is a multi-sensory course that teaches touch-typing skills to help children and adults improve their reading and spelling.
BigBrainz is a math program used for memorizing math facts. Designed as a video game, it engages kids in a way that makes memorization that much more fun. This program will be available starting October for students who have demonstrated need.
Zingy Science was designed by science teachers so that students can become familiar with science concepts in an entertaining way. Zingy Science is available for 4th-8th grade students.
Additionally, there are many enrichment classes held before and after school. Instruction in yoga, sports, music, chess and cooking vary throughout the school year. Visit the Extended Care section of the website for details.
No Meaningless Homework Policy
According to much research there is almost no evidence that homework helps elementary school students achieve academic success and little more that it helps older students. Common sense tells us that homework often causes family problems and takes time away from valuable learning experiences that can happen before and after school hours. Over the past few years we have found that our no meaningless homework policy has allowed our students to read more at home, enjoy more loving family time, experience fewer fights with their parents. spend more time outdoors playing, give them time to practice skills that they need to address, take more enrichment classes and be less stressed. This allows parents and children to fill that space in whatever way they feel is most appropriate. If you would like to read more about this topic you may find the article, Rethinking Homework, by Alfie Kohn, to be helpful.
Student Led Conferences
Innovations Academy holds Student Led Conferences twice per year. They take the place of Parent-Teacher conferences. Student Led Conferences are a time when the teacher, parents and student take a look at the work and take time to set goals. Students lead parents and teachers through a discussion that involves goal setting, portfolio review and current strengths and challenges. This format helps students take responsibility for their learning.
Presentations of Learning
Students present their learning regularly in class. Additionally, they give presentations of their learning at the end of each project. Our formal 'Presentations of Learning' are given at the end of the school year. These presentations serve many functions that are integral to the mission of our school: to reflect upon one's learning, to improve one's public speaking skills, and to revise one's work so that it is worthy of public presentation. The presentations consist of students talking about their personal and academic growth over the semester, and highlighting several pieces of work as evidence of that growth. Students present to an audience of peers, adults and family members.